What is the Best Subcompact Car for 2022?
Subcompact cars are tons of fun. They're the perfect choice for first-time drivers, those on a budget and people who don't need loads of passenger and/or cargo space.
These cars are ideal for carpooling, commuting and nights on the town. The best subcompacts are easy to handle, cheap to run and make the best of the space they have.
Here, we take a look at the best subcompact cars from 2020 onwards. From Hyundai to Nissan, some of the world's best car manufacturers produce super small vehicles. We'll help you choose a great vehicle for your next drive.
What Makes a Good Subcompact Car?
The best subcompact cars pack in the features of larger cars at a budget price. Buy a used subcompact vehicle and you'll save even more money. As well as low purchase prices, you can also expect to save on insurance, repairs and other costs.
Subcompact cars are ideal for city journeys and highway motoring, thanks to great mileage per gallon. And although they're small, they can look great and many models don't scrimp on tech features either – particularly the more modern ones. Many subcompact cars also often have plenty of headroom and surprisingly spacious back seats, too.
Here's some key qualities to look for in these little pocket rockets.
Performance – subcompacts can punch well above their weight, with surprisingly powerful engines enabling fun, sporty driving adventures.

Range – due to their size and light platform, subcompacts often offer excellent fuel economy, and that's why they're such a great choice for commuting. You'll get more bang for your buck.

Price – with a used subcompact there are often great purchase price deals to be had. You'll probably see significant savings on insurance costs too.

Repair cost – when it comes to maintenance and repairs, subcompacts can save you a lot. One of our top cars, the Hyundai Accent, came out top in Kelley Blue Book's 5-Year Cost to Own Awards for the lowest maintenance and repair costs.
Who Makes the Best Subcompact Car?
Picking the best subcompact car manufacturer isn't easy. Everyone has different needs when they pick a vehicle. But our list of the best-of-the-best below shows which carmakers are particularly good at packing a lot into a little chassis.
South Korean company Hyundai is one of the best-known names in subcompacts, and for good reason. They constantly rank highly on 'best of' subcompacts list, thanks to efficient, fun and surprisingly roomy vehicles like the Accent.
Kia, also from South Korea, has built up quite the rivalry with Hyundai. Kia has a reputation for quality motors at excellent prices. This makes them the perfect company for subcompacts, and their best, including the Rio and Soul, are little wonders, able to zip from A to B without making a big hole in your wallet.
Then, there's icons like Chevrolet, who you may think of when you're wanting a large vehicle like a truck. Chevy does indeed make excellent big motors, but they also produce some of the best subcompacts, including the Spark and the Sonic.
Our Top 5 Subcompact Picks
Hyundai Accent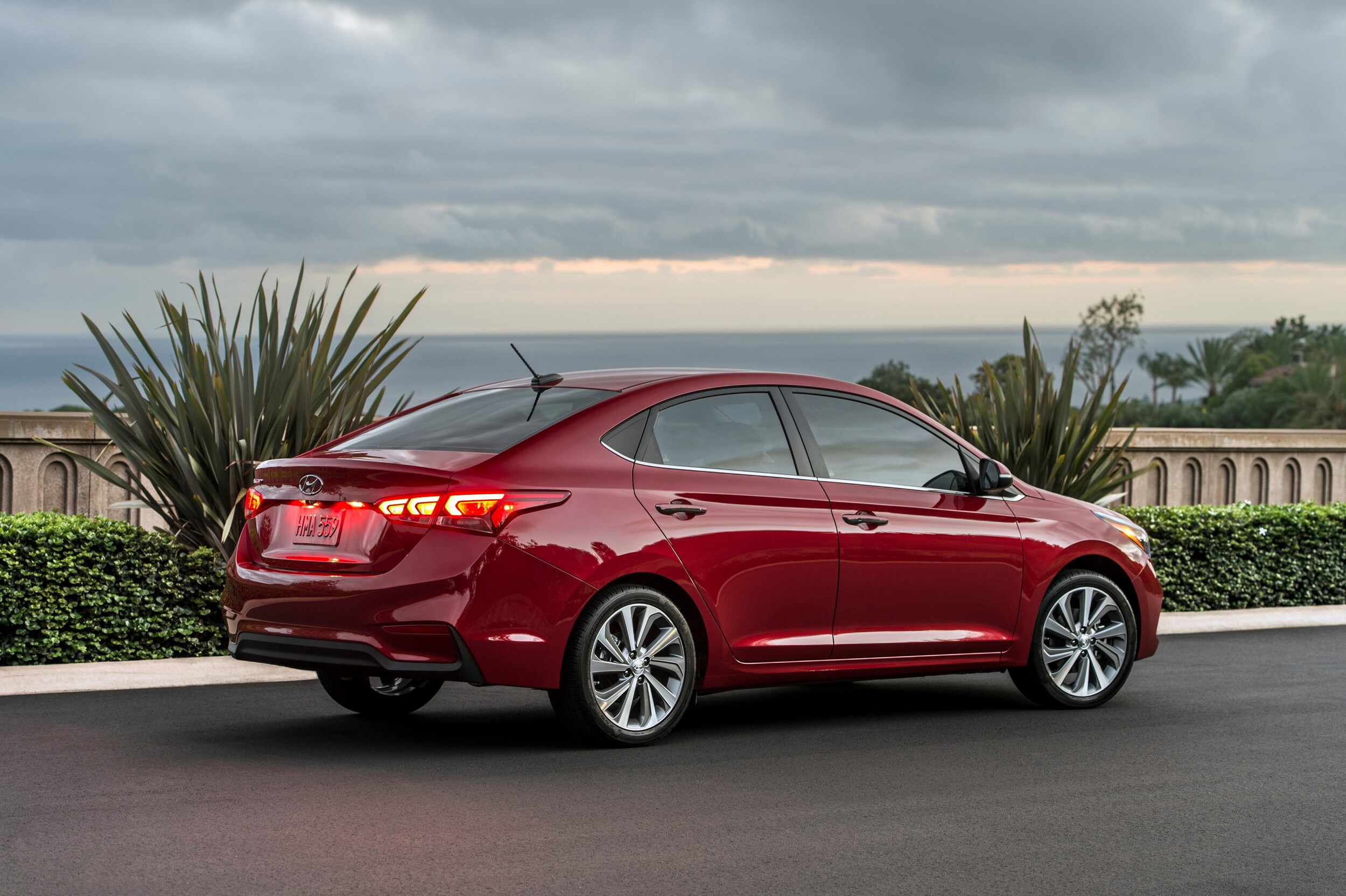 Hyundai's award-winning subcompact is a dynamic daily driver. It astounds by being able to carry four adults comfortably, but it can fit into tight city parking spots with ease. Since 2020, the continuously variable automatic transmission (CVT) option gives 33 mpg in the city and 41 mpg on highways. The Accent is one of the best in class for economy. With a J.D. Power predicted reliability score of 90 out of 100 and advanced safety features like forward collision warning, you'll feel safe and can rely on the Accent.

Shop Hyundai Accent
Mitsubishi Mirage
The Japanese juggernaut's subcompact offers outstanding gas mileage – the 2021 model (with CVT) gets an estimated 36 mpg in cities and 43 mpg on the highway. These figures are outstanding and that's just the start when talking about the Mirage. The infotainment system is super-easy to use, with a well-positioned touchscreen and smartphone connectivity with Apple CarPlay and Android Auto. And regardless of being small, Mitsubishi has proven you shouldn't have to miss out on top safety features, including pedestrian detection and automatic emergency braking.

Shop Mitsubishi Mirage
Kia Rio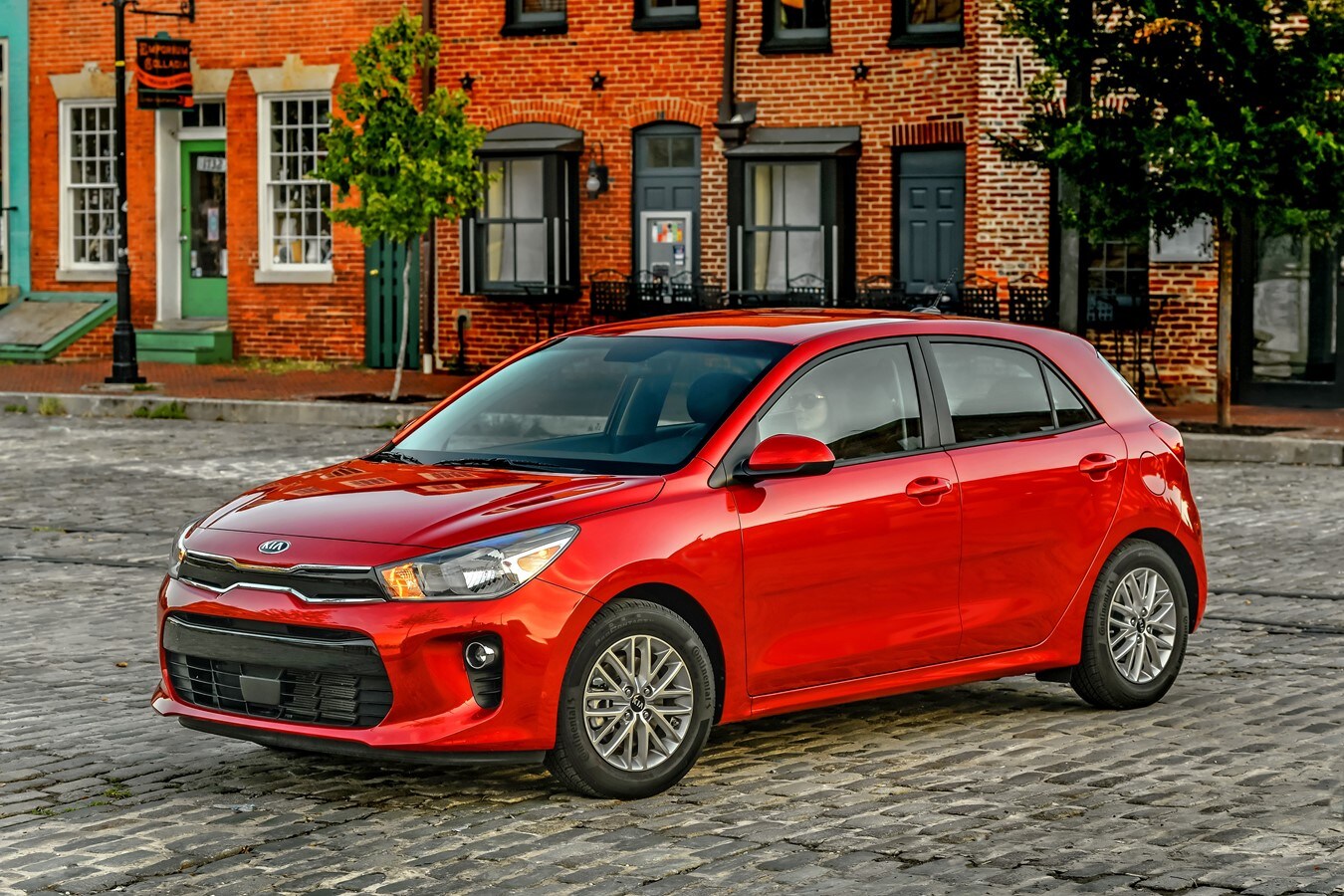 One of the best all-rounders when it comes to subcompacts, and excellent value for the money. The Kia Rio gives you agile and comfortable driving and the upscale cabin is a pleasure to sit in. Standard infotainment including an 8-inch touchscreen, smartphone connectivity and a 6-speaker stereo means Kia really packs a lot into a small space. And as with all greatest subcompacts, the Rio's mileage is seriously impressive – 33 mpg in the city and 41 mpg on the highway.

Shop Kia Rio
Chevrolet Spark
The Chevy Spark is the perfect name for a bright, fun, exhilarating subcompact. Its maneuverability is among the best in class for such an affordable car. From 2020 onwards, the 98-horsepower, 1.4-liter four-cylinder engine came as standard and gives plenty of punch when it comes to driving around town.

Shop Chevrolet Spark
Nissan Versa
One of the popular Japanese manufacturer's biggest selling points on the Versa is the cargo space. The 2022 base model manages an impressive 14.7 cubic feet, while the other models provide 15 cubic feet.
The Versa is another great all-rounder, with solid handling, smooth driving and forward collision warning and pedestrian detection as standard. It's recently been awarded five out of five stars for safety by the National Highway Traffic Safety Administration.

Shop Nissan Versa
Buy a Subcompact Car with EchoPark
If you've decided any of these subcompacts sounds like your next purchase, EchoPark stocks all the best-in-class. Browse online or visit your nearest store today.