Best Cars To Drive For Uber & Lyft
In today's gig economy, you may be thinking about becoming a Lyft driver or Uber driver, but are wondering what kind of car you should have.
A good ridesharing car should have good fuel economy, comfort, ample legroom and reliability. It should provide a good riding and driving experience, especially since the driver will likely be spending hours in the car.
You may think new cars would be best, but used cars can also offer a good experience for Uber and Lyft.
What Services Do Uber and Lyft Offer?
There are several different levels of service and pricing Uber and Lyft offer.
UberX is the most common, while UberXL offers rides in larger vehicles with more headroom like SUVs for more passengers. Uber Comfort Car offers an economy ride in larger cars with more legroom. UberX and UberXL are also economy rides.
Premium rides, which cost more, include Uber Black and Uber SUV, feature professional drivers and luxury cars.
Lyft offers similar services, including Lyft XL, Lyft Lux, Lyft Black and Lyft Black XL.
Depending on what kind of ride you offer and the vehicle you drive, you'll make more money.
What To Look For In A Ridesharing Car
There are several features you'll want for your ridesharing car that will make for a good ride for both you and your passengers, including good fuel economy, cargo space and plenty of legroom.
The vehicle you drive for Uber or Lyft will also have to meet several requirements set by the companies, so make sure you choose a car that covers those.
Fuel Economy
It's important to have good gas mileage in your ridesharing car, so shop around for the best mpg for city and highway. If you'll be doing a lot of city driving, a hybrid model may be a good idea as they often have better fuel efficiency in the city.
Cargo Space
Your ridesharing vehicle will need good cargo space, especially if you'll be picking up a lot of passengers from airports, who will be traveling with luggage. Since passengers will be riding in the back seats, you'll want to make sure those are large enough to give a comfortable ride.
A midsize car could be a good ridesharing option, as many models provide ample cargo space, legroom and headroom.
Affordability
Of course, rideshare drivers need to consider the pricing of the car they choose. It's important to keep monthly payments, insurance rates and maintenance costs affordable so they don't cut too much into your rideshare earnings.
A base model could be a good vehicle for ridesharing for affordability and will still provide a good experience for both driver and passengers, without adding expensive options to your price tag.
Meeting Uber & Lyft Vehicle Requirements
The car you drive for Uber or Lyft has to meet several vehicle requirements set by the companies.
Each vehicle must be a four-door car, truck or minivan, and not be a full-size van. The car must have certain safety features, including five seatbelts. A ridesharing car can be a maximum of 15 years old, although that can vary from city to city.
The Best Cars To Drive For Uber & Lyft
For Great Fuel Economy
Toyota Camry Hybrid
The Toyota Camry Hybrid is a fuel-efficient choice for a ridesharing car. This midsize, four-door sedan that can get as much as 55 mpg in the city.
This hybrid version has garnered praise for a comfortable interior, decent legroom in the back and excellent safety ratings.
Toyota Prius Prime
The Toyota Prius Prime is another midsize, fuel-efficient choice for an Uber or Lyft driver. This plug-in hybrid hatchback can get as much as 54 mpg, and has a rage of about 25 miles on electric power alone.
It comes standard with lots of driver-assist features and has a comfortable interior, although the cargo space is smaller in the Prime than in the non-plug-in Prius because of the Prime's larger battery.
For The Most Space
Honda Odyssey
The Honda Odyssey minivan is a great vehicle for loading up a family of ridesharers, seating 8 comfortably.
Loaded with safety features, the Odyssey is a pleasure to drive due to quick acceleration and nimble maneuvering and also boasts a "cavernous" interior for the comfort of passengers, according to Car and Driver. Its second and third rows of seats are among the most spacious in its class.
Excellent crash test ratings round out the Odyssey as a good vehicle for a rideshare driver.
Toyota Sienna
Another great family hauler, the Toyota Sienna minivan offers all-wheel drive as an option, making it a good car for ridesharing in snowy or wet climates.
The Sienna gives an easy and efficient ride, and a functional interior with seating for up to 8 (7 in the all-wheel drive version). It's tops in cargo carrying, able to fit more carry-on bags than its competitors. It can get from 19 mpg in the city, to 26 mpg highway.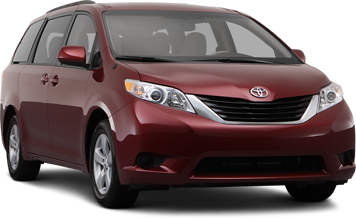 For The Best Price
Chevrolet Malibu
The Chevrolet Malibu offers a good ride and handling, attractive styling and an available efficient 1.5 liter turbo-charged engine that gets up to 34 mpg. Available safety features include automated emergency braking with pedestrian detection and lane-keeping assistant.
Inside this four-door, midsized Chevy sedan, driver and passengers will find a spacious and comfortable interior, with ample legroom in the back for adults. Interior storage and trunk space is also good.

Shop Chevrolet Malibu
Ford Fusion
Your Uber or Lyft ratings might go up with the Ford Fusion, which U.S. News & World Report says offers "athletic handling with a smooth ride," and spacious seats. The trunk is among the largest in this competitive midsize sedan class.
Gas mileage is decent, although not the highest in its class, at up to 23 mpg city and 34 mpg highway. Standard active safety features include Ford's Co-Pilot360 suite, which includes lane keep assist, blind spot monitoring, pedestrian detection, automatic emergency braking and more.



Honorable Mentions
Toyota Camry
The Toyota Camry is one of the most well-rounded midsize cars for ridesharing, ticking the boxes for being fuel efficient (up to 39 mpg) and reliable, with excellent safety scores, comfort and a pleasurable drive.
Rideshare passengers are likely to love the upscale interior, while the driver will love the high predicted reliability rating, which translates into lower maintenance and repair costs.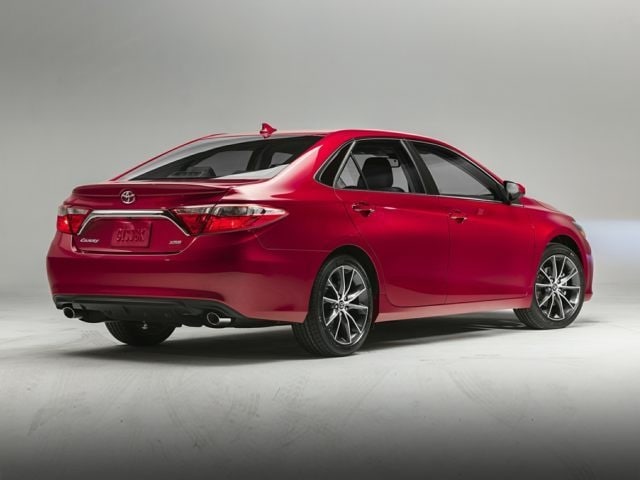 Hyundai Sonata
Hyundai is known for its attractive cars packed with standard features, and the midsize Sonata is the perfect example.
Driver and passengers will find an elegant interior inside a sedan that's responsive on the road. The backseat is described as comfortable and spacious. Head to the airport and pick up passengers - seven carry-on bags will fit in the trunk.
The Sonata gets up to 30 mpg combined, and a hybrid version introduced in 2020 has been rated by the EPA to earn 52 mpg combined.

Shop Hyundai Sonata
Buying A Great Ridesharing Car
Rideshare drivers looking for the best car for their money should not hesitate to look at used cars instead of new. Used cars offer great fuel economy, cargo space, headroom and legroom at an affordable price.
EchoPark's used cars are 1-4 years old with low mileage, and have passed a rigorous inspection, so you know you'll be behind the wheel of a safe and reliable rideshare car for years to come when you buy from us.