The 10 Most Fuel-Efficient Cars On The Market In 2021
When investing in a new car, it's important to know how much it'll cost to run. Fuel is likely to be one of your biggest expenses, so exploring the best gas mileage cars can help you keep running costs low, whatever happens to the price of gas.
While many modern cars offer impressive fuel economy, some cars simply achieve better miles per gallon (mpg) than others.
Look below to discover some of the most fuel-efficient cars on the market today.
Why Is Buying A Fuel-Efficient Car A Good Idea?
Fuel-efficient cars can save you money on gas. The more fuel-efficient a car is, the less gas it needs to run and the higher mileage it can achieve on one tank.
This also means the most fuel-efficient cars contribute less to pollution levels, reducing your reliance on fossil fuels to get around and cutting your carbon footprint.
Fewer visits to the gas station can have practical benefits too. Strong mpg means less inconvenient stops and worries about finding a gas station when you're out of town or on a long drive.
Car Models With The Best Miles Per Gallon
Our picks have been chosen for their fuel-efficiency and include a range of compact cars and sedans from different years with styles, features and performance to suit many types of drivers. Discover some of the cars with the best miles per gallon:
2017 Honda Civic

2019 Ford Fusion

2019 Toyota Yaris

Toyota Prius

2019 Ford Fiesta

Hyundai Elantra

2019 Volkswagen Jetta

2018 Ford Focus

2019 Kia Forte

2017 Chevrolet Volt
2017 Honda Civic
Engine: 1.5-liter four-cylinder turbocharged
MPG: 31 city/40 highway
Sporty and stylish on the outside, a turbocharged engine under the hood backs up the Honda Civic's striking appearance to deliver an excellent mpg. The sleek sedan has a fuel-efficient powertrain to reduce your gas station stops, whether cruising down the highway or navigating downtown.
Across the different trim levels available, mpg and gas consumption can vary, with the 1.5-liter model from 2017 one of the Japanese brand's most fuel-efficient cars available today. From the base trim upwards, the Civic includes fantastic features such as a rearview camera, five-inch central display screen and available sunroof.
2019 Ford Fusion
Engine: 2.0-liter hybrid
MPG: 43 city/41 highway



The Ford Fusion is available with gas, hybrid and plug-in hybrid engines and a whole host of different trims to suit your preference.
The hybrid model is one of the all-American manufacturer's best mpg cars, delivering a similarly long range for both city and highway driving. If you're not ready to go hybrid yet, the standard gas trims still offer decent fuel efficiency too.
2019 Toyota Yaris
Engine: 1.5-liter four-cylinder
MPG: 30 city/39 highway

This subcompact sedan gets great gas mileage, some of the best out there for its car class. The 2019 model of the Toyota Yaris is only available with a 1.5-liter four-cylinder engine with 106-horsepower, which makes city and highway driving effortless and efficient.
Its front-wheel drive provides plenty of control out on the road too. There are three trims available, but even the base L trim includes a seven-inch infotainment system, cruise control, automatic emergency braking and more for a smooth driving experience.
Toyota Prius
Engine: 1.8-liter I4
MPG: 53 city/58 highway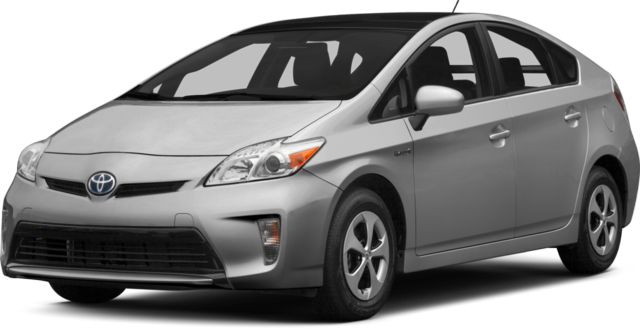 The Toyota Prius was the world's first mass-produced hybrid vehicle and one of the first to enter the US market – selling more than 1million units by 2011. Since then, it's had various updates in terms of shape, style, engine and fuel economy.
Like most hybrids, it's one of the best mpg cars and boasts close to 60 mpg for highway driving and above 50 on city streets. The 1.8-liter four-cylinder engine has 121-horsepower that makes the shift from gas to electric power and vice versa fast and smooth.
2019 Ford Fiesta
Engine: 1.6-liter four-cylinder
MPG: 27 city/37 highway

Subcompact vehicles are generally some of the cars with the best fuel economy, due to their smaller size and lighter weight. The Ford Fiesta is a prime example. It's one of the world's best-selling cars thanks to its fantastic reliability and low running costs for a non-hybrid model.
The base 1.6-liter four-cylinder engine with 120-horsepower gets the best fuel economy from the trim selection. For a sportier look, feel and more power, the ST model is the answer, though its fuel economy is closer to 25 mpg in the city (32 mpg for highway driving).
Engine: 2.0-liter four-cylinder
MPG: 33 city/43 highway
Gas-powered Hyundai Elantra cars with the base 2.0-liter four-cylinder 147-horsepower engine have some of the highest fuel economy ratings going for a compact sedan. Its dynamic powertrain packs plenty under the hood for all your daily driving needs.

Exact fuel economy depends on the specific trim though, and the SE, Limited and N trims offer a slightly lower mileage. In 2021 the new hybrid Elantra went on sale, and it offers a combined 56 mpg, ideal for those thinking about making the switch away from fully gas-powered vehicles.
2019 Volkswagen Jetta
Engine: 1.4-liter four-cylinder
MPG: 30 city/40 highway

Another of the best fuel economy among gas-powered compact sedans is the Volkswagen Jetta. The base 147-horsepower turbocharged engine makes it an energetic drive for short and long rides, delivering competitive fuel economy.
There's a wide array of trims and specs that build on the base model if you want added features – but those with more powerful engines do compromise on fuel economy.
2018 Ford Focus
Engine: 1.0-liter turbocharged three-cylinder
MPG: 30 city/40 highway

Another popular Ford due to its fantastic reliability, appealing design and durability, the Ford Focus is also a highly fuel-efficient option. It's available in sedan and hatchback styles to suit everyone from commuters to families, with low maintenance costs.
Fuel economy depends on the specific powertrain, engine and trim. A six-speed manual SE sedan is the most fuel-efficient option, getting around 30 mpg for city driving and up to 40 mpg on the highway.
If you don't drive stick, don't worry. The automatic version isn't much worse off, promising mpg of 27 city/38 highway. Automatic S and SE hatchback models offer 26 city/38 highway as well, with a slightly smaller body.
2019 Kia Forte
Engine: 2.0-liter four-cylinder CVT
MPG: 31 city/41 highway

The Kia Forte is another fuel-efficient car with high mileage, but it also benefits from a large trunk and spacious interior. Its automatic 2.0-liter base engine is up there with the highest mileage for compact sedans on the market, promising more than 40 mpg on the highway. Plus, its 147-horsepower ensures an impressive drive.
The manual transmission version is slightly lower (27 city/37 highway), yet still fairly efficient for those who want to drive stick. Its spacious interior and impressive fuel economy make it a hit with families looking to avoid too many gas station trips.
2017 Chevrolet Volt
Engine: 1.5-liter 149-horsepower
MPG: 43 city/42 highway

Chevrolet's innovative Volt is a suave plug-in hybrid that offers incredible fuel economy for both short and long journeys. For a used fuel-efficient car, the second-generation 2017 model with a 1.5-liter engine is best. It provides similar miles per gallon whether you're driving downtown to do some shopping or heading up the highway to visit family.
Drive in electric vehicle (EV) mode and you get a range of around 53 miles, without using a drop of gas. Once that's gone, you still get around 420 miles of range from the Volt's gasoline engine. Plus, 149-horsepower enables fast transitions and plenty of power when going up steep streets.
Buy A Fuel-Efficient Vehicle From EchoPark
Find a used fuel-efficient car for sale at EchoPark, including most of the models listed above.
Using the filter options lets you search by make and model, as well as mpg (highway), engine, mileage and more to discover and compare fuel-efficient cars.