How to Beat the High Cost of New Car Depreciation
Ah, that new car smell. Nothing says "you just spent a small fortune on a rapidly depreciating asset" quite like that smell. "Depreciating?" you might ask. Yes. Depreciation is the most expensive cost of owning a new vehicle, and the cost of owning a new vehicle is at an all-time high, so let's get started with a little background on depreciation.
What is depreciation and why should I care?
Depreciation is the loss of value of an asset over time – mostly due to wear and tear. While almost all items depreciate, from shoes and clothes to electronics, most don't carry the heavy cost associated with depreciation on an expensive purchase like a new vehicle. Other factors besides wear and tear can contribute to even greater depreciation in some makes and models. The introduction of a new body style for a model will make the old model worth less. New technology makes old vehicle technology obsolete, and so on.
Most people are aware that a new car drops a significant portion of its value the minute you drive it off the dealership lot, but how much is "significant?"
Well, according to
Edmunds
, you leave about 11% of the vehicle's value behind when you drive it home from the dealership. In the first year of ownership alone, vehicles on average will lose 20%+ of their value. You can check out the chart below for the depreciation journey over the first 5 years of owning a vehicle that was purchased at $30,000 new.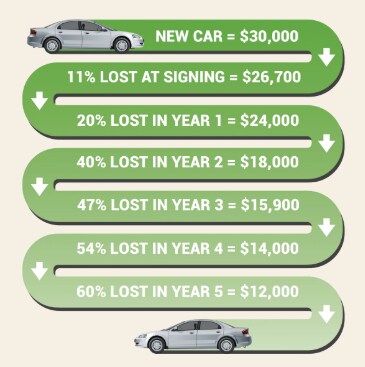 Adding to the high cost of depreciation is the fact that
new cars are more expensive than ever
. Again, Edmunds tells us that the average financed amount for a new car in August 2019 is $32,590, up over 5% from a year earlier. Spending more on a new car means you could likely lose more to depreciation.
There's another option you might want to think about.
One way that you can beat the high cost of depreciation and still enjoy many of the same perks associated with buying a brand-new vehicle by purchasing "nearly new" or "gently used."
These vehicles generally have most of these qualities:
•
are between 1-3 years old
•
are still covered by the original manufacturer's warranty
•
have the latest body style
•
have a wide variety of the newest technology and safety features available – from Apple CarPlay to adaptive cruise control and more.
By choosing a
late-model, pre-owned car, truck or SUV
, you can save thousands on the actual price of the car or purchase a model with more options and features available than perhaps you would have purchased if you'd bought brand new. Most importantly, you bypass that 11% depreciation hit that comes with driving a new car off the lot. You also avoid depreciation during its most expensive years, the 1st through the 3rd, depending on the age of car you purchase. If you want more peace of mind around purchasing a used car, you can opt to only purchase a vehicle with a clean car history report (like Carfax). This will ensure that the vehicle you purchased has not been involved in an accident or had any other types of frame or flood damage.
Happy motoring!