The Best Cars for Outdoorsy Lifestyles
If you love outdoor adventure, you're going to want a car with the practicality of good interior space for comfortable road trips and a secure place to carry your adventure gear.
Some outdoor enthusiasts love powering through the mud, while others need a car that can haul their camping gear, mountain bikes or kayaks. Let's take a closer look at the features that make for good adventure vehicles to help you in your search for the best car to tackle the great outdoors.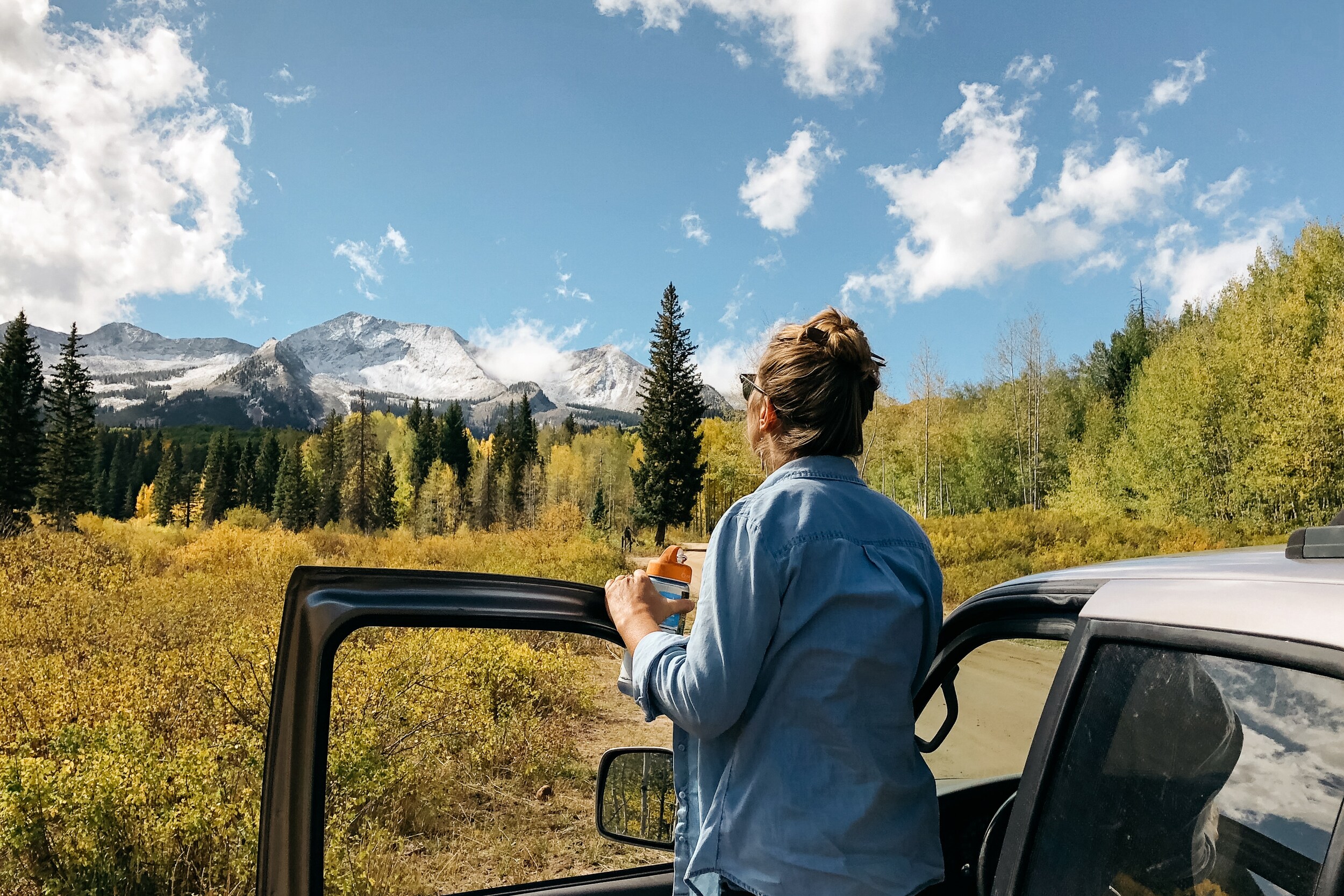 What Makes a Good Adventure Vehicle?
Off-Road Capability
Love adventure and the road less traveled? Then you'll want to look for a car with off-road capability during your car buying search. Here's an off-road capability checklist:
1. Ground Clearance
For adventurers looking to travel harsh terrain and dirt roads, look for good ground clearance - lots of space between the underbody of the car and the ground. This keeps your car from getting damaged as you travel off the beaten path.
2. Skid Plates
Skid plates protect off-road vehicles from damage from rocky, narrow or steep terrain. Even if your car has great ground clearance, skid plates are a good idea for extra protection around the body of the car.
3. Hill Descent Control Systems
Hill descent control manages descent without any brake input from the driver. It's described as super-slow off-road cruise control and allows the driver to focus on steering while descending steep grades with rough terrain. It comes standard on a multitude of utility vehicles, including the Jeep Wrangler, Chevrolet Colorado, Toyota 4Runner, Ford F-150, RAM 1500 and Kia Telluride.
4. Locking Differentials
Open differentials, which is what most cars have, mean that the wheel with the least traction gets the most power. For off-roading, adventurers want the wheel with the most traction to receive the most power through locking differentials, to keep their vehicle from getting stuck when driving on muddy or rocky terrain. Many Toyota, Ford, Ram and Nissan trucks and SUVs offer locking differentials.
All Wheel Drive vs. Four Wheel Drive
All-wheel drive improves vehicle performance in bad weather like snow and rain, and is optimized for on-road use. Four-wheel drive improves off-roading performance. But four-wheel drive is not designed to be used on paved roads and is reserved for vehicles with serious off-road capability, like the Jeep Wrangler.
Cargo Space
If your favorite outdoor adventures require lots of equipment, adequate cargo space is a must.
Do you need three rows of seating for the family, with the versatility of more interior space with the seats down? Will you need storage space for small gear and gadgets, and lots of room for your tent and fishing rods? Make sure you consider interior space needs during your search for the perfect outdoorsy vehicle.
Fuel Efficiency
If you'll be taking longer road trips for your outdoor escapes, a car with good fuel economy is also a must. Keep in mind that uneven terrain and the unpredictability of off-roading can put a dent in the MPG your car gets.
A turbo-diesel engine may be a good option. Many trucks and SUVs good for hauling your gear, going off-road or towing a boat or trailer are available with turbo-diesel engines, which are more fuel efficient.
What Vehicles Are Best for You?
Deciding which outdoor vehicle suits your sense of adventure depends on where you're going. Are you looking to get away from it all for a few days on a camping trip? Taking an adventure with the whole family, or headed to the most challenging mountain biking trails? We've picked our favorite adventure cars by activity to help you narrow down your choices.
Hiking & Camping
Subaru Outback
A list of cars beloved by outdoor enthusiasts wouldn't be complete without the Subaru Outback at the top.
Hikers love the Outback for a variety of reasons, including enough towing capability for small boats or campers, good fuel economy and enough space to fit all that camping gear, the family dog and even a couple of backseat passengers. The Outback's 8.7 inches of ground clearance and X-Mode AWD system gives it enough off-road prowess to handle those trails less traveled.
Jeep Wrangler
Jeep Wrangler – another car you expected to see on our list, right? Go absolutely anywhere in this off-roading champ, which features a practically never-ending list of options to make it your perfect trail-hitting vehicle, customized to your hobbies and travels.
The Wrangler has grown up, literally, in recent years, adding cargo space for your gear and for your road trip passengers too. With a towing capacity of 2,000-3,500 pounds, you can pull a light camper or boat, making for a versatile vehicle for a variety of outdoor excursions.
Road Trips & Off Roading
Toyota 4Runner
Commonly described as a workhorse, the Toyota 4Runner has been called the best "overlanding vehicle in North America" for the price by Territory Supply.
There's ample cargo space and seating for seven, which means lots of outdoor fun for you and friends and family. The 4Runner comes highly equipped for off-road prowess, including four-wheel drive, 9.6 inches of ground clearance, skid plates and locking differentials, and there's no backcountry trail the 4Runner TRD Pro edition can't take on.
Lexus GX
The Lexus GX boasts legitimate off-road capability, lots of standard driver-assistance features and a quiet cabin that you'd expect from a luxury brand.
This off-roader is armored with skid plates, and equipped with hill descent control and 8.1 inches of ground clearance, making it a luxury SUV that doesn't mind getting its wheels in the dirt or mud. Load up the fam and friends in the three rows of seats and explore nature, or tow the boat to the lake for the day – the GX has a versatile 6,500-pound towing capacity.
Jeep Grand Cherokee Trailhawk
The Trailhawk is considered the rough-and-tumble version of the Jeep Grand Cherokee lineup. Its key feature is Jeep's Quadra-Drive II air suspension, which takes the SUV from 8.2 to 10.8 inches of ground clearance. Think of all the trails to be conquered with that kind of ground clearance, plus four-wheel drive and an armored underside to take on all those bumps in the road.
Its interior is described as plush, which is perfect for more urban adventures when it's time to return to the weekday commute.
Biking & Water Sports
Honda HR-V
The Honda HR-V made our list because of its fuel efficiency, all-wheel drive option for all models and spacious interior – up to 58.8 cubic feet with the rear seats folded down. That's plenty of room for your hiking, kayaking and biking gear. Add a roof rack as an option and you're ready to take your mountain or road bike everywhere.
The front-wheel drive version gets 28 mpg in the city and 34 on the highway, considered outstanding in its class. With seating and legroom for five passengers, you can go exploring comfortably.
Toyota Tacoma
The Toyota Tacoma was made to get dirty. Equipped with Fox shocks, a wide stance and 9.4 inches of ground clearance, this pickup truck is more at home off road than on city streets, where its ride is described as stiff.
Outdoor adventurers will love the utility of having an open bed to throw all their gear into. Off-road enthusiasts will love how the Crawl Control feature will take them up and over the roughest terrain by modulating braking and power between all four wheels.
Chevrolet Colorado
Hitch up the boat or camper, we're going on an adventure. When equipped with a turbo-diesel engine, the Chevrolet Colorado has a towing capacity of 7,700 pounds, the best in its class, plus decent gas mileage at 20 mpg in the city and 30 on the highway.
U.S. News and World Report describes the Chevy Colorado ZR2 model as the most capable for off-roading, and "probably the most impressive off-road vehicle Chevy makes." This version comes standard with four-wheel drive and is available with a V6 or turbo-diesel engine.
Family Adventure
Nissan Pathfinder
You can tow a 27-foot Airstream trailer (glamping, anyone?) with the Nissan Pathfinder, which has a top towing capacity of 6,000 pounds with a punchy V6 engine. Climb some dusty trails with four-wheel drive – the descent control will keep you from sliding back down. The large cargo area will transport all of your adventuring gear.
This midsize SUV offers three rows of and a spacious cabin, so you can come back home and shuttle the kids to school and soccer practice without sacrificing comfort.
Jeep Wrangler Rubicon
Take off the largest convertible top in the automotive industry and enjoy the fresh air and those mountain views in the Jeep Wrangler Rubicon.
The Rubicon 392 with V8 Hemi engine is billed as the "quickest, most powerful Wrangler ever." That power comes at a price, and the Rubicon is more expensive because it has upgraded axles, transfer case, locking differentials, disconnectable sway bars, wheels and tires which maximize this off-roader.
But a higher price tag may be worth it, as there's nothing more fun than taking on the highway or going off the beaten path in an outdoor icon like the Jeep Wrangler Rubicon.
The Best Outdoorsy Vehicles at the Best Prices
The best adventure cars have lots of cargo room for hauling your outdoor gear, and often a high towing capacity and serious off-road capability so you can venture out farther into the wild than ever before.
An EchoPark Experience Guide can help you narrow down your choices and decide which features you need for a journey into the great outdoors. We offer pickup trucks, compact to large SUVs and crossovers with the space, safety features and AWD or four-wheel drive at the best prices, always up to $3,000 less than the competition.
Those outdoor adventures await, so contact us today.