The Best Used Cars For Off-Roading
Off-road features on new cars often add up to hefty price tags.
But buying an off-road vehicle doesn't have to break the bank - just look at the numerous models you can buy used from automakers like Ford, Jeep, Nissan, Chevrolet, Range Rover, Subaru and Ram.
If you're interested in off-road vehicles, consider a used car to meet your off-roading needs.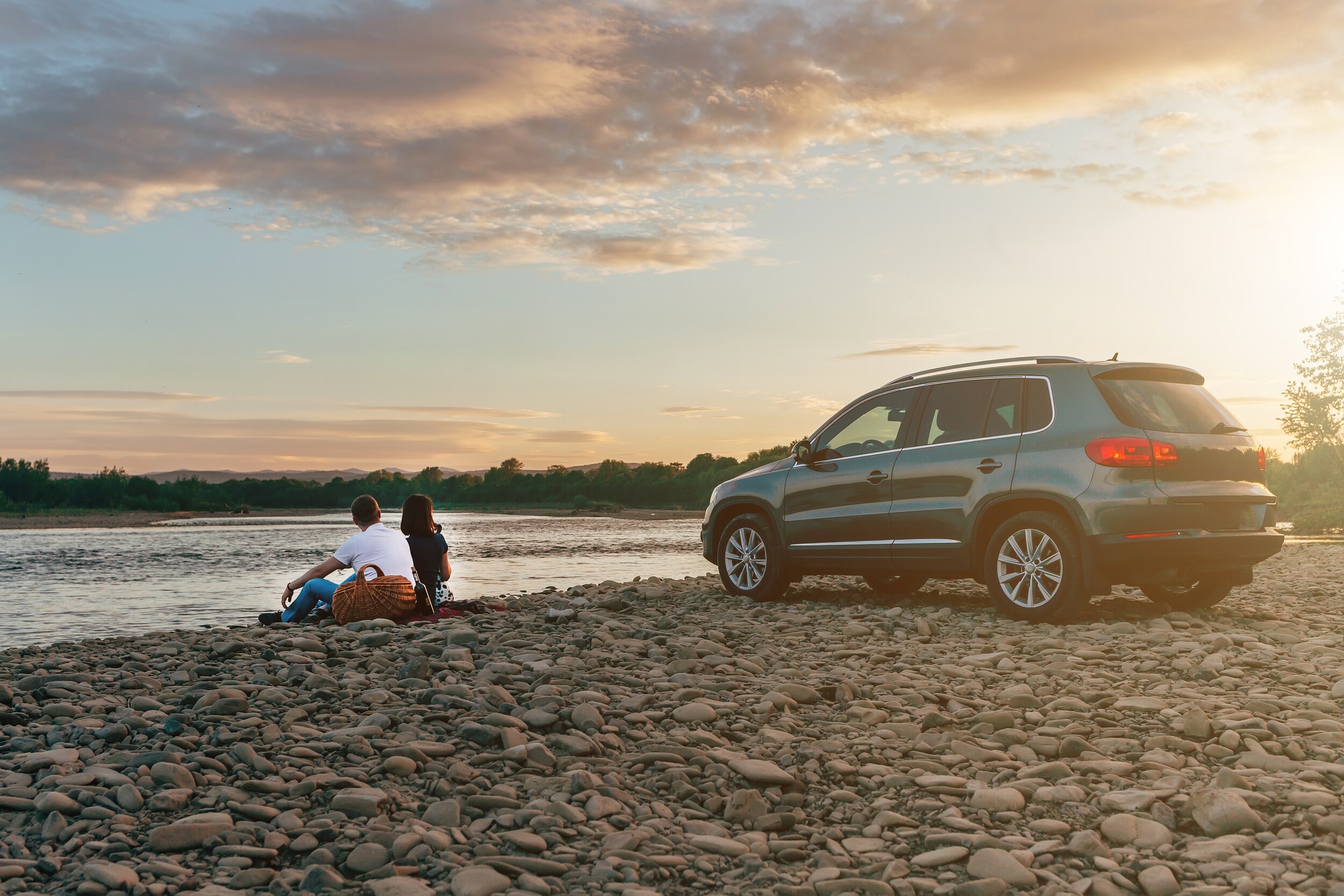 What Makes A Good Off-Roader
Let's take a look at the features that give a car good off-road capability, like high ground clearance, locking differentials and skid plates. We'll also discuss the differences between all-wheel drive and four-wheel drive.
Ground Clearance
If you're looking for a good off-road vehicle, keep in mind the ground clearance of the vehicles you're researching.
For adventurers looking to travel harsh terrain, lots of space between the underbody of the car and the ground is important to avoid damaging the car over uneven ground and rocks.
All Wheel Drive Vs. Four Wheel Drive
All-wheel drive systems deliver power to each corner of the vehicle, similar to four-wheel drive systems. Unlike four-wheel drive, however, all-wheel drive is always engaged and delivers varying amounts of power to the axles depending on road conditions.
All-wheel-drive systems primarily power one set of axles, either front or rear. When the car senses traction loss in one axle, it automatically diverts more power to the other axle to compensate. This improves performance in bad weather, such as snow and rain, but can often lower fuel efficiency.
An adventure-seeker might want a four-wheel drive vehicle for off-roading and extreme conditions, like slogging through mud, tackling sand or climbing rocky terrain.
However, a four-wheel drive system is intended only for off-road or extremely slippery conditions and is a part-time system, meaning the driver has to shift into 4WD by knob, lever or button. This keeps the front and rear axles turning at the same speed.
Skid Plates
Skid plates are like armor for the underside of your car. They protect an off-roader from rocky, narrow or steep terrain. If you're really going to travel the (dirt) roads less traveled, you should invest in a vehicle that not only has good ground clearance, but skid plates as well for extra protection.
Skid plates protect important parts of the vehicle, such as the gas tank and transfer case - parts that if damaged by an errant rock could leave you stranded in the backcountry.
Rock sliders are bars, similar to side steps, that attach onto the sides of an off-roader to protect the car's underside from rocks and stumps. In addition to providing protection, rock sliders also make a handy pivot point when getting around certain obstacles and they even provide a handy step for getting in and out of the vehicle.
Locking Differentials
A good off-road truck or SUV is equipped with locking differentials.
Open differentials, which is what most cars have, mean that the wheel with the least traction gets the most power. For off-roading, adventurers want the wheel with the most traction to receive the most power through locking differentials.
Locking differentials allow both wheels to travel at the same speed, so when traction is lost for one wheel, both wheels will still keep spinning regardless of the amount of resistance. They can be added to either the front or rear axle. A hardcore off-road vehicle may have both front and rear locking differentials.
Fuel Economy
Will you be taking highways to the paths less traveled? Then you'll want to consider an off-roader with good fuel economy. Long road trips to the best off-road trails, uneven terrain and the unpredictability of off-roading make a fuel efficient car a must for outdoor adventurers.
The Best Off-Road Used Cars
We've compiled a list of SUVs and pickup trucks to consider if you love off-roading that range from luxury to workhorse.
Toyota 4Runner TRD Off Road
The Toyota 4Runner TRD Off Road is one of the toughest, longest lasting midsize SUVs around, available in several different trim levels.
All 4Runner models are equipped with a workhorse V6 engine, automatic braking, four-wheel drive, skid plates, crawl control and locking rear differentials. The TRD Pro edition is an off-roader's dream with added features like Fox shocks, an aluminum front skid plate and all-terrain tires.
Toyota Tacoma
The Toyota Tacoma was made to get dirty. It's available in 6 trim levels, with the TRD Pro and Off Road models made especially for adventures across challenging terrain. Both off-roaders offer manual transition and four-wheel drive.
Equipped with Fox shocks, a wide stance and 9.4 inches of ground clearance, this pickup truck is more at home off road than on city streets. Off-road enthusiasts will love how the Crawl Control feature will take them up and over the roughest terrain by modulating braking and power between all four wheels.
Toyota Land Cruiser
The Toyota Land Cruiser is especially pricey, so look for a used version. It's well worth the price, with a V8 engine, 381 horsepower and automatic transmission just waiting to take you through the mud or over boulders in the backcountry.
Off-roading features include crawl control and Multi-Terrain Select, which allows the driver to tailor the SUV's performance for a specific terrain, such as mud, sand and loose rock.
Jeep Wrangler Rubicon
Hit the toughest terrain in a classic. The Jeep Wrangler Rubicon has been an icon of off-roading since its first generation.
The Rubicon is equipped for off-road adventures, with four-wheel drive, 9.7 inches of ground clearance, upgraded axles, locking differentials, disconnectable sway bars and all-terrain tires. It would be tough to find a trail the Jeep Wrangler couldn't conquer.
Upgrades in recent years have improved the Wrangler's comfort, cargo space and off-road performance.
Jeep Grand Cherokee Trailhawk
The Jeep Grand Cherokee Trailhawk is Jeep's next best all-terrain performer after the Wrangler, but with added comfort and cargo space.
Considered the rough-and-tumble version of the Jeep Grand Cherokee lineup, the Trailhawk's key feature is Jeep's Quadra-Drive II air suspension, which takes the SUV from 8.2 to 10.8 inches of ground clearance. Think of all the trails to be conquered with that kind of ground clearance, plus four-wheel drive, all-terrain tires and skid plates to take on all those bumps in the road. With a 6,200-pound towing capacity, you can take the camper with you on off-roading trips.
Ford F-150 Raptor
The Ford F-150 Raptor pickup truck was designed specifically for the outdoorsy adventure crowd.
Redesigned for 2021, Ford's high-performance truck is at home on the highway and across rocky, sandy, muddy and otherwise dirty terrain.
It's V6 twin-turbo packs 450 horsepower, According to Car and Driver its "astonishing suspension allows composed cruising on the road as well as amazing control when you're barreling across the Mojave Desert or soaring over state-park sand dunes" in Baja mode, which was designed with desert racing in mind. Sounds pretty fun, doesn't it?
Land Rover Range Rover
Land Rover has a whole fleet of vehicles made for off roading, including the Land Rover Discovery, Defender, Sport, Velar and Evoque.
The Land Rover Range Rover is the most opulent off-roader on our list, with a luxurious interior and on-road presence. But the Range Rover isn't all about looks. This luxury SUV goes off road with a host of features such as nearly 9 inches of ground clearance, hill descent control and a terrain response system that keeps the ride smooth over a variety of conditions, including snow, sand and rocks.
Every trim level is powered by automatic transmission and selectable all-wheel drive system. Starting price is near 6 figures, so it's definitely worth hunting used models of this top-of-the-line off-roader.
Subaru Outback
Adventurers love the Subaru Outback for a variety of reasons, including enough towing capacity (2,700-3,500 pounds) to pull small boats or campers and its good fuel economy.
Good ground clearance - 8.7 inches - and all-wheel drive help this four-door off-road wagon power through all weather conditions including snow and make it a perfect ride for light trails.
With the rear seats folded down, the Outback also has enough cargo space to carry camping gear or double as your camping space after a day spent adventuring.
Buying Used Off-Road Vehicles
Powerful engines, four-wheel drive systems, high ground clearance, skid plates and other off-road features don't come without a price.
But at EchoPark, our Experience Guides can help you find a used off-road vehicle to fit your budget so shop with us today. We hope you find yourself climbing mountainous trails and muscling across sand dunes in your next car soon!