The 7 Best Cars For Mountain Bikers & Cyclists
If you're looking for a new car and love hitting the trails on your mountain bike, you should look for vehicles with off-road capability and good cargo capacity for starters.
Many automakers make affordable cars for mountain bikers, like Ford, Nissan, Subaru, Volvo, Kia, Volkswagen, Mazda and more. Some of the best cars for cyclists include plenty of room inside for their road bikes or mountain bikes.
We'll take a closer look at what car buyers should look for in a new car if they love cycling.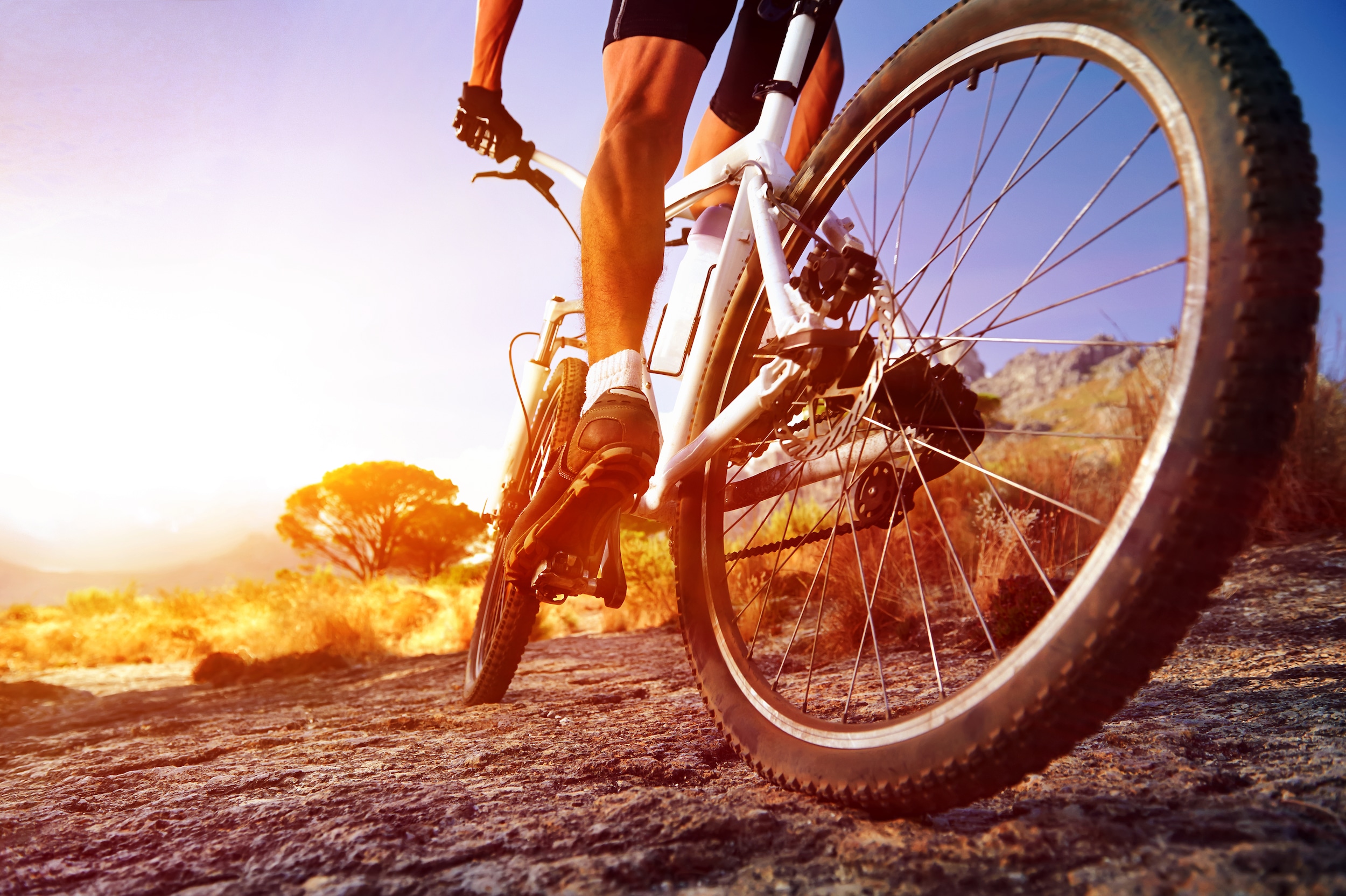 What Makes A Good Car For Biking Enthusiasts?
The best and most challenging mountain biking trails won't be the easiest to get to, so you need a vehicle that can climb a summit, get you safely back down and have plenty of room for you, your bikes and possibly, your bike riding friends and their cycles and gear.
We recommend making a checklist of features for your next mountain biking car to include:
Off Road Capability
That trailhead may be at the end of an unpaved road or at the top of a mountain peak, so mountain bikers should definitely look for a car with off-road capability.
Good ground clearance, all-terrain tires, adjustable suspension and definitely all-wheel drive should be standard on an off-roader. A four-wheel drive system is a great option to get you to those off the beaten paths.
Cargo Capacity
Cycling can be a great activity for a group of friends, so you should look at vehicles with enough room for your mountain bike, cycling gear AND your crew. Some cars come standard with roof racks or roof rails, or you can attach a Thule or Yakima bike carrier to the car's trailer hitch or use a trunk rack. Some adventure cars have enough cargo space to fit your bicycle inside the vehicle with the back seats folded down.
If you like camping and biking, you may want to consider a vehicle with a good towing capacity to pull a camper, or a trailer to load up yours and your friends' bikes and gear.
Fuel Economy
Since it might be quite a drive to the trailhead, consider good fuel economy when looking for the perfect mountain biking vehicle.
You might log a lot of highway miles to get to the toughest trails, so you should look for a car with a turbo engine or turbo-diesel engine, which provide more power and better fuel efficiency.
The Best Cars For Mountain Bikers
Our best list includes a small but spacious compact SUV, mid-size pickup trucks, crossover SUVs and large and luxurious full-size trucks and SUVs, so you have plenty of choices to fit your needs and budget.
Subaru Outback
Of course, the Subaru Outback makes our list of the best vehicles for mountain biking due to its practicality. With all-wheel drive, 175 horsepower and a towing capacity of 2,700 pounds, this adventure wagon can go just about anywhere, and do it well.
This crossover handles well in all weather and slippery off-road conditions, including mud, sand and unpaved, rocky paths. Don't want to mess with bike racks or roof racks? Fold the back seats down and you'll find enough room for bikes for you and a friend.
Ram 1500
No need for a bike rack when you have a pickup truck bed to load those bikes into. The four-door Ram 1500 can accommodate several bikes in the back, and five passengers in the luxurious cab.
Four-wheel drive will get you to the toughest trails, and with 305 horsepower and a 6,500-pound towing capacity, you can pull the camper for an extended stay in the wilderness.
Nissan Frontier
The Nissan Frontier, known as the Nissan Navara outside the Americas, offers two-door and four-door cab models and boasts plenty of room in the bed for your bikes.
Like its name implies, the Frontier pickup truck comes equipped for adventure in the great outdoors. Off-roading features include locking differentials, part-time four-wheel drive and nearly 9 inches of ground clearance. A 310-horsepower, twin turbodiesel engine will power you up any trailhead. With a towing capacity of 6,250-6,720 pounds, you can pull just about anything needed for your next great escape.
Ford Expedition
Got a family of mountain bikers? Load everyone up in the three-row seating the Ford Expedition offers.
This large SUV ranks best in its class for fuel efficiency - 17 mpg in the city, and 23 mpg on the highway - so go ahead, take the scenic route to that new trail you've been wanting to try.
Haul the bikes and gear and camping necessities, too - the Expedition has a towing capacity of 6,000 pounds. If you're looking for off-road adventures, the Expedition FX4 is well-equipped with 375 horsepower, skid plates, Fox shocks and more to handle rough terrain.
Mazda CX-5
The Mazda CX-5 crossover SUV goes from light terrain to city driving with ease, making it a practical choice on our list.
While not considered a classic off-roader, this popular compact SUV has an ample 187 horsepower and optional all-wheel drive. Handling is described by Consumer Reports as "responsive and enjoyable," exactly the kind of ride you want to the backcountry for a day of biking.
The Mazda CX-5 can accommodate a bike or two inside, or you can use a roof or trunk rack and save the interior space for your fellow cyclists.
Jeep Wrangler
Looking for a car ready for any kind of outdoor adventure? Then the Jeep Wrangler is a classic choice.
Made to tackle any kind of terrain, the Wrangler will get you to the most challenging of mountain biking trails with four-wheel drive. With the rear seats down, a few bikes can easily fit into the back, or put them on a trailer - the Wrangler is capable of towing 2,000 pounds.
Honda HR-V
Commuter car on weekdays, mountain bike transport with optional all-wheel drive on weekends - that's the Honda HR-V.
Car and Driver ranks Honda's smallest vehicle since the discontinuation of the Fit as one of the most practical in its class. With Honda's Magic Seat magic, the HR-V boasts an amazing 56 cubic feet - how many mountain bikes do you want to load up?
Need even more space for your adventure gear? Load up a roof rack or rear rack and take a team of bikers or haul that surfboard and hit the waves after a day on the trails.
Toyota Tacoma
Considered the "king" of sport pickup trucks, the Toyota Tacoma can easily fit your bikes, your boards and any other adventure gear into the back.
The best-selling midsize pickup in the U.S., the Tacoma may not have the smoothest ride or best fuel economy, but it does have off-road chops. The Tacoma TRD Pro model is equipped with all-terrain tires, Fox shocks, a large front skid plate and more.
Chevrolet Colorado
A direct competitor of the Toyota Tacoma, the Chevrolet Colorado pickup truck has a more powerful engine than the Tacoma, and is less expensive as well. However, the Tacoma is lighter, making it better for off-roading.
The ZR2 edition Colorado comes standard with a V6 engine and four-wheel drive. Those features, along with high ground clearance and front and rear locking differentials will raise the price tag of the ZR2 model, but will also get you to the toughest trails.
Land Rover Discovery
With 340 horsepower, V6 and turbo diesel engine options, four-wheel drive and a towing capacity of 8,200 pounds, the Land Rover Discovery is a great heavy-duty option for mountain bikers. Fold the rear seats down to accommodate bikes or use a hitch rack to carry them to a scenic peak.
Along with its workhorse traits, the Discovery also features a luxurious cabin, smooth on- and off-road ride, and great infotainment and driver-assistance technology. Car and Driver concluded that the new Land Rover Discovery is "built for the trails" as well as "equipped to conquer suburbia."
Buying A Great Mountain Biking Car
Cars with good fuel economy, off-road capability, lots of cargo space and good towing capacity - there are so many great models and options when it comes to finding the best car to take you to the next level in your mountain biking journey.
At EchoPark Automotive, we can answer questions and get you behind the wheel for a test drive in a used pickup truck or SUV, saving you money on your car so you can spend more on your bike. We can't wait for you to be able to load up those mountain bikes or road bikes for new adventures, so call us today.