The 8 Best Vehicles for Taking On the Desert Heat
Driving in the desert is a tough prospect for driver and vehicle alike. The extreme heat and dry, sandy conditions mean picking the right vehicle is important to make sure you're comfortable and safe.
Some cars are better than others at withstanding high temperatures. Drivers of desert vehicles are also looking for the ultimate in reliability, as there is no AAA in the middle of the desert.
This list narrows down some of the best desert cars on the market.
What Makes a Good Desert Vehicle?
There are lots of factors to consider when deciding on a good desert vehicle. Anyone thinking about spending time driving in the desert should be looking at cars that offer high-end specs across all the following categories.
Off-Road Capability
When considering the terrain of the desert landscape, four-wheel drive capability is optimal.
While all-wheel drive may be fine for traversing wet, hard-packed sand at the beach, four-wheel drive is required to navigate the type of loose, deep sand most often found in the desert.
Locking differentials are another factor that should be carefully considered. A rear differential lock can make all the difference between overcoming obstacles and getting stranded in the desert. Rear differential locks help vehicles gain traction in areas where there is little ground purchase, ideal for navigating a sandy terrain.
Deserts are notoriously uneven and drivers are likely to encounter sand dunes at some point throughout their trek. Ground clearance is vital to help navigate these.
Good desert vehicles will have ground clearance of no less than eight inches to be able to get over dunes with ease. A shorter wheelbase can also be useful in an off-road vehicle in that it allows for a tighter turn capability.
Reliability
The average car is around 50% more likely to break down when driven in extreme heat. Drivers of desert vehicles cannot afford to break down every time the temperature peaks.
A great desert car will be able to withstand the heat and go the distance. Durability is a key factor in selecting a desert vehicle.
The unforgiving desert is not a place anyone wants to be stuck in for long, so heavy duty protection is essential. Loose, flying sand can cause damage to car batteries, tires, bodywork, brakes and more.
Fuel Economy
Deserts won't have regular gas stations to refuel. A great desert vehicle needs to have excellent fuel economy to ensure the journey can be completed before the car runs out of gas.
Carrying spare fuel is also a must, in case of emergencies.
Cargo Space
When driving in the desert, the main aim is to get from A to B without breaking down. However, even the best desert cars will occasionally suffer damage.
Sufficient cargo space is therefore essential to be able to transport everything that would be needed in an emergency.
This includes plenty of water, food rations, water purification tablets, everything needed to light a fire in the cold desert night, camping equipment, a first aid kit, signalling devices, lighting, flares and anything else that could come in useful if stranded in the middle of nowhere in extreme weather conditions.
The Best Desert Vehicles
Ford F-150 Raptor
The Ford Raptor is a high-performance pickup truck designed to meet the challenges of driving in the desert.
A popular off-roading choice for its durability and handling, the Raptor was inspired by the Baja 1000. This epic endurance-based off-road race takes place in Mexico across some of the most challenging terrains known to man or vehicle.
The Ford Raptor is based on the Ford F-150, with a range of additional features that make it ideal for desert driving.
These include high ground clearance of almost ten inches, with wheel travel of 13 inches in the rear and 11 inches in the front, perfect for deep-sand running.
The bodywork includes skid plates and exterior running boards for extra protection from the elements, with independent front suspension and four-wheel drive to help navigate tricky landscapes. This model also includes Baja Mode, which is specially designed for driving on sand. According to Ford, switch to this mode and you're ready for "high-speed desert running."
Toyota Land Cruiser
The Toyota Land Cruiser is one of the most capable cars for off-roading on the market.
Fuel efficiency is somewhat lacking at around 17 miles per gallon, but is made up for by the on-board payload of over 1,300lbs and towing capacity of 8,000 pounds, allowing for back-up fuel transportation.
This four-door SUV has three rows of seats so it's great for group ventures, and the back seats fold down to provide more cargo space if required.
Toyota 4Runner
The Toyota 4Runner series of SUVs are capable, dependable and come packed with a range of features that make off-roading safer for both car and driver. A rigid rear with stabilizer bars and independent front suspension make for great handling in adverse conditions and smooth sailing over dunes and bumps in the road.
Fuel efficiency for the 4Runner is only slightly better than the Raptor and Land Cruiser, at around 18 miles per gallon.
Cargo space can be increased by folding down one or both of the rear rows of seats. The maximum capacity of 88.8 cubic feet with both rows down is higher than average for a mid-size SUV.

Shop Toyota 4Runner
Hummer H1
The Hummer is a military vehicle that was never truly intended for city driving. It was designed specifically to get army personnel across difficult desert terrain, navigating sand dunes and uneven ground with ease in high temperatures.
Ground clearance is an immense 16 inches, facilitating travel over high sand dunes, with up to 300 horsepower from the V8 diesel engine. The wide body offers loads of cargo space for all the supplies you could possibly need, with tires that can handle almost any type of ground.
Subaru Forester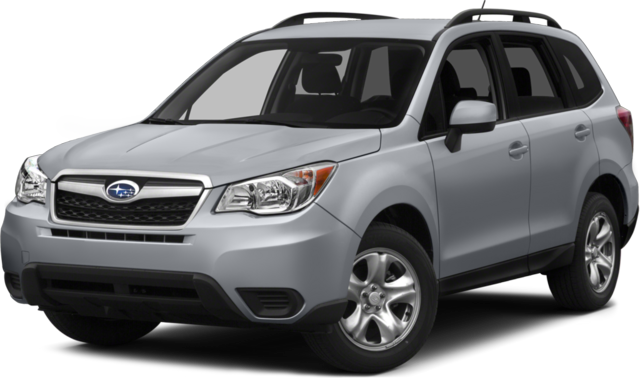 The Subaru Forester is almost the exact opposite of the Hummer in that is offers a great compromise for those that want a vehicle that can be used for both off-roading and city driving. Light, compact and reliable, this stylish SUV is a top safety pick from the Insurance Institute for Highway Safety.
The Forester offers six-speed manual transmissions as standard and a coupling locking differential for all-wheel drive that allows the torque to be split between the rear and front wheels for extra stability on uneven ground.
The superior traction is ideal for both loose desert sand and slippery city roads, with an acceptable ground clearance of 8.7 inches.

Shop Subaru Forester
Volvo XC70
The Volvo XC70 may not be specifically designed for off-roading but it offers a variety of impressive features that make it an option for occasional desert driving.
This four-door utility wagon is an all-temperature drive, able to withstand extreme heat and extreme cold. It also has one of the best fuel efficiencies for this type of vehicle, offering up to 31 miles per gallon on the highway.
The cargo capacity is a generous 72 cubic feet – plenty of space for safety and camping gear storage. Ground clearance is 8.3 inches which, while lower than some of the other cars on the list, should still be high enough to tackle most desert conditions.
All-wheel drive makes navigating tricky terrain or areas where traction is minimal easier and the series is highly durable and built to last.
Ram Power Wagon
The Ram Power Wagon from Dodge looks and feels like an off-road vehicle should. It sits high off the road with a whopping 14.2 inches of ground clearance, with heavy-duty tires, locking differentials and tall suspension, all features designed for the ultimate capability in off-roading.
Fuel efficiency is limited, so longer treks across the desert may not be ideal. However, with a wide range of features designed to tackle the toughest terrains, the Power Wagon is hugely capable for shorter adventures.
It has optional four-wheel drive and a front swaybar that can be disconnected automatically, alongside a front-mounted winch fitted as standard for pulling other vehicles out of trouble in the dunes.
Jeep Wrangler Unlimited Rubicon
Jeep has long been synonymous with off-roading and this has never been more apparent than with the Wrangler Unlimited Rubicon.
The Unlimited models have a long wheelbase and ground clearance of 10.8 inches, with heavy-duty tires designed to tackle even the toughest terrain. Locking differentials, larger axels, a disconnecting front swaybar and ultra-low gearing combine to make this one of the best cars on the market for desert travel.
The Rubicon features four-wheel drive with 4.10 gear ration power to all wheels, paired with six-speed manual transmission and a powerful V6 3.6-liter engine for a capable ride on all surfaces.

Shop Jeep Wrangler Rubicon
Buying the Ultimate All-Terrain Vehicle
The ultimate all-terrain vehicle combines durability, power, high ground clearance, great traction, the ability to withstand extreme temperatures and plenty of cargo space.
EchoPark has a wide selection of quality used all-terrain vehicles, with options for those looking for a great all-around car for city driving and off-roading, as well as more heavy-duty desert vehicles for adventuring.