The 10 Most Fuel-Efficient Trucks On The Market In 2021
While it's easy to get bowled over by high-tech features, top speeds and tow rating, one of the most crucial features to pay attention to when buying a truck is fuel economy.
A truck with a strong MPG (miles per gallon) rating will help drive down running costs and mean longer gaps between trips to the gas station.
We've compiled a list of some of the most fuel-efficient trucks available to help you find one that's right for you.
Buying A Fuel-Efficient Truck
Fuel-efficiency isn't usually the first thing you associate with pickups. But modern trucks have a much higher MPG rating than their predecessors.
This is especially true if you get a smaller or lighter model of truck or a newer hybrid option. That means that for each gallon of fuel you put in, you'll be able to travel farther and spend less on gas.
Trucks With The Best Miles Per Gallon
We've compiled a list of trucks with solid fuel economy credentials from a range of brands, models and years, to offer you a varied choice.
The fuel-efficient trucks we've chosen are:
Ford Ranger

Ram 1500

Jeep Gladiator

GMC Canyon

Honda Ridgeline

Ford F-150

Chevrolet Silverado

Chevrolet Colorado

GMC Sierra

Ram 1500 2WD
2021 Ford Ranger
Engine: 2.0-liter EcoBlue four-cylinder turbodiesel
MPG: 31.7 mpg

The Ford Ranger is one of the cheapest fuel-efficient trucks on our list. It comes both with four-wheel drive (4WD) and without, so you have the option to choose.
Its 10-speed automatic transmission as standard means that every Ranger gets the same fuel economy. There's also a rear-drive model, which can often be slightly cheaper, if you're on a budget.
The Ford Ranger gives you a mix between the rugged look and hauling power of a traditional pickup truck, with the lighter weight of a midsize truck.

Shop Ford Ranger
2021 Ram 1500
Engine: 3.0-liter 6-cylinder automatic 8-speed
MPG: 21 city/29 highway



This full-size pickup truck is a great option when you're looking for a fuel-efficient truck without compromising on size. It comes with plenty of features, including soft suspension, a quiet cabin and an upscale feel that's great for families who like to travel long distances.
It can tow up to 12,750 pounds and has 2,300 pounds of payload. If you like getting out into the wild its off-roading abilities are robust, and this model offers a gentle torque assist at low speeds.

Shop Ram
2021 Jeep Gladiator Diesel
Engine: 3.0-liter V-6
MPG: 24 city/28 highway

Averaging around 24 mpg in the city, the Jeep Gladiator is one of the most fuel-efficient trucks on the market. This 4WD midsize truck can even get up to a considerable 28 mpg on the highway.
It is a little smaller than some other trucks on our list, with a five-foot bed, but there's still plenty of room for packing a lot of tools or camping gear.

Shop Jeep Gladiator
GMC Canyon Turbodiesel
Engine: 2.8-liter 4-cylinder automatic 6-speed Turbodiesel
MPG: 20 city/30 highway

The GMC Canyon is a triple threat. It has strength, comfort and style, but it's also highly fuel-efficient. It can reach an average of 20 mpg in the city, and around 30 mpg on the highway.
The on-board tech, including Bluetooth, Android Auto and Apple CarPlay, is extremely user friendly, making it easy to operate on the road. It also has excellent towing and hauling capabilities, so its slightly smaller size doesn't hamper it. For a mid-size pickup truck, it's surprisingly spacious inside, but still has the maneuverability that makes mid-size trucks city friendly.
But that doesn't mean it's for city-goers. The rugged, adventure-ready chassis is great for off-roading, so you can unleash your wild side too.

Shop GMC Canyon
2021 Honda Ridgeline
Engine: 3.5-liter 6-cylinder automatic
MPG: 18 city/24 highway

The Honda Ridgeline is not your average pickup truck. Thanks to its unibody frame, it has car-like handling, a quieter ride and improved fuel-efficiency.
The cabin is first-class and comes with an 8-inch touch screen with built-in navigation, Android Auto and Apple CarPlay.
The Honda Ridgeline reaches an average of 24 mpg on the highway. If you're a city-dweller you can expect to reach around 18 mpg in your day-to-day driving.
2021 Ford F-150
Engine: 3.5-liter 6-cylinder automatic turbo
MPG: 25 city/26 highway

Going for a fuel-efficient truck option shouldn't mean you have to give up a roomy cab. The Ford F-150 is spacious with six seats, and you can choose from a range of bed sizes from 5.5 to 8.0-ft.
Plus, it comes with a hybrid-engine option so that you can make the most of its great fuel economy. Depending on the engine, you can expect to get 25 mpg in the city and 26 mpg on the highway.

Shop Ford F-150
2021 Chevrolet Silverado 1500
Engine: 4.3-liter 6-cylinder automatic turbo
MPG: 15 city/19 highway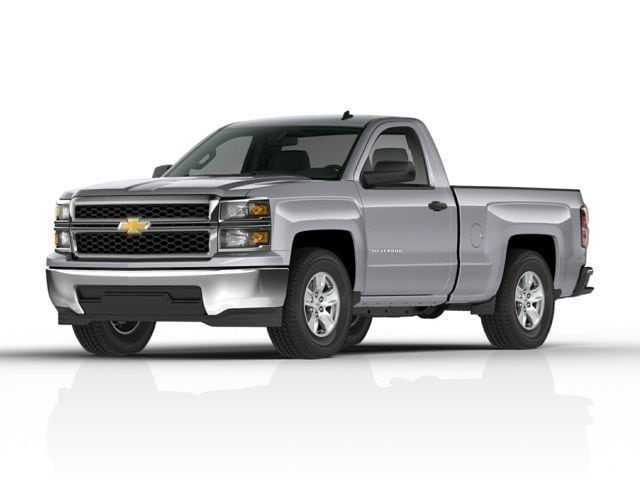 Going for a fuel-efficient truck doesn't mean you have to rule out full-size models completely. Space is at a maximum here, as the Silverado has the largest cargo bed volume in its class. With several tie-down points and an optional cargo view camera, it's also highly practical for all your cargo needs.
Between its size, power and fuel economy, the Silverado makes a great all-rounder option to tick multiple boxes on your truck checklist.

Shop Chevrolet Silverado
2021 Chevrolet Colorado
Engine: 2.8-liter 4-cylinder automatic turbo diesel
MPG: 20 city/30 highway
Chevrolet's compact truck option, the Colorado, comes in various bed, cab and engine sizes. You have plenty of choices to make sure you get the style of truck that best fits your needs.
If it's the power stats you're interested in, you won't be disappointed, as the Colorado can tow up to 7,000 pounds. But its colossal power doesn't mean it's out of place in the city. It has excellent maneuverability, making it easy to drive in traffic and slip into parking spaces.

Shop Chevrolet Colorado
2021 GMC Sierra 2WD
Engine: 5.3-liter 8-cylinder automatic
MPG: 15 city/21 highway



The GMC Sierra comes with plenty of in-built safety features, including a trailer length indicator, a cargo bed viewer and a jack-knife alert.
The cab is best-in-class, with plenty of head and legroom for extra comfort. This model is ideal for both urban and rural exploration, with a sleek and modern exterior and interior.

Shop GMC Sierra
2020 Ram 1500 2WD EcoDiesel
Engine: 3.0-liter 6-cylinder automatic
MPG: 22 city/32 highway
The RAM 1500 2WD EcoDiesel is a good budget option, so you'll save on the vehicle cost – as well as regular fuel costs.
You can also pick an efficiency-minded HFE package with low-rolling-resistance tires to help keep the vehicle weight low, further improving your miles per gallon.

Shop Ram
Buy A Fuel-Efficient Truck From EchoPark
Looking for a truck but want to get more bang for your buck when buying fuel? Browse our full range of fuel-efficient trucks to find the perfect model for you.