Is a Volkswagen a Reliable Car?
German car manufacturer Volkswagen is one of the world's biggest car makers and has been producing vehicles since 1937.
Volkswagen is known for its durable mechanics, as well as reasonable running costs – so you'll save money by cutting down on repairs and enjoying a generous fuel economy.
Volkswagen translates to the people's car – and there's a model to suit all lifestyles, budgets and vehicle needs, from the stylish Passat to the spacious Tiguan SUV.
Volkswagen Reliability Ratings
The recent ratings carried out by 2021 Consumer Reports give each brand an average reliability ranking and in this the Volkswagen scored fairly high.
The brand was ranked in 24th place with a score of 36 points. This is significantly higher than Tesla with 29 points and Lincoln with eight points, but below brands like Ford (38) and Mini (37) as well as other German manufacturers Audi (46) and Mercedes-Benz (40).
Given the sheer number of car brands available in the United States, ranking in the top 30 is a good indication that Volkswagen is a reliable car to drive.
The average cost of carrying out repairs on a Volkswagen car is less than $400 a year and the average time spent on the ramp is around two and a half hours. This suggests that most repairs aren't too serious (for example, engine failure) but something that has a relatively easy fix.
How is Reliability Judged?
There are a wide range of considerations that must be made when assessing the reliability of a make or model of car. Each of these factors are evaluated and an average score is decided.
Researchers will first look at the number of times a car has broken down within a set period of time. They will also evaluate the cost of repairs, severity of any faults and the amount of maintenance that is required to the car.
The amount of time the average repair takes is a useful figure to look at, too.
To ensure fairness, a big sample size is used to minimize the impact of any variables that might have a significant impact on the results. For example, a driver's driving style or the location in which they live (e.g. city driving or rugged countryside) can impact how much maintenance a car needs.
Why Does Volkswagen Score So Well?
German car brands are generally known for their quality and longevity and the Volkswagen is no exception to this.
Out of all VW models, the Volkswagen Golf is said to be one of the most reliable and a great all-round car for drivers who are looking for comfort, convenience and long term reliability.
In 2016, the Volkswagen Tiguan, a small SUV model, was found to be one of the most dependable SUVs on the market.
When purchasing a used Volkswagen it should be noted that this brand of car is known to hold its value better than other mainstream brands like Chevrolet and Ford, due to the public's perception of it being a high quality and hard-wearing vehicle. This can mean that prices are slightly higher by comparison.
What are the Most Reliable Volkswagen Models?
Whether you want an SUV or a hatchback, there is a reliable Volkswagen model to suit everyone.
Built with families in mind is the SUV Tiguan, but there are also iconic compact hatchbacks including the Golf, as well as stylish sedans like the Passat and Jetta.
Volkswagen Tiguan
The Tiguan has a distinctive design with sharp, well-sculpted lines and smart detailing, such as its LED daytime running lights feature.
The 4MOTIVE active control allows you to adapt the vehicle to suit driving in all types of weather conditions. You will find the handy Volkswagen Car-Net Destination Import navigation system.
Volkswagen Golf
Aside from the Volkswagen Beetle, the Golf is probably the brand's most iconic and popular model of car. The latest iterations of this model have advanced driver-assistance features to ensure that every journey is safe and effortless.
The R-Line has a number of sporty touches to its interior and exterior design, with uniquely shaped bumper spoilers, radiator grille and side skirts. The Golf Alltrack has the 4MOTION system and an off-road feature that is ideal for driving down steep and bumpy inclines.
Volkswagen Passat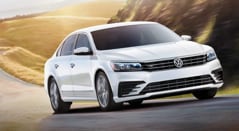 The Passat is one of Volkswagen's most stylish sedans. It is designed for people that are always on the go but still want that luxurious feel that makes for a pleasant ride.
It has all of the innovative technological features of other VW models and the latest versions of the car have been refreshed with ambient interior lighting and a design that gives an even more spacious feel.
Volkswagen Jetta
The Jetta is a mid-sized sedan that provides great value for money. Its timeless design has classic appeal with a sleek and streamlined profile.
The Jetta offers excellent gas mileage and a roomy interior, with a comprehensive entertainment system. This front-wheel drive car may have lower safety features than others in its class, but offers a smooth, comfortable drive.
Buy a Used Volkswagen from EchoPark
EchoPark has a wide selection of cars that are between one and four years old, including all of the most reliable Volkswagen models.
Discover a used Volkswagen that fits your needs, budget and lifestyle today.